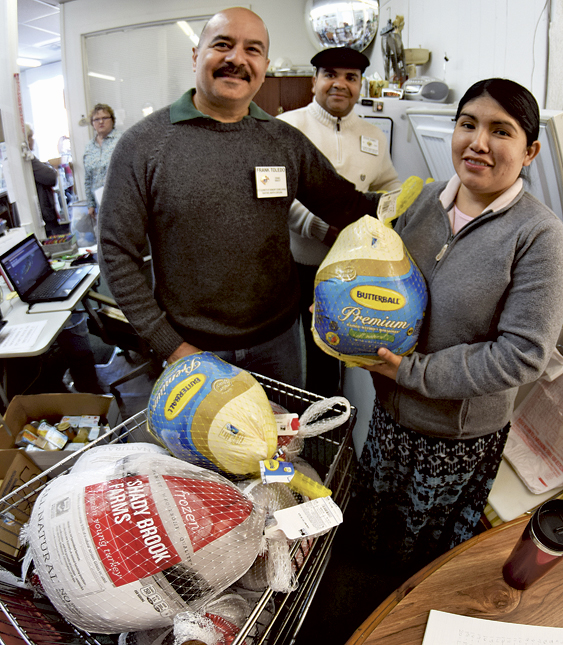 Thanksgiving cheer
Knights of Columbus, the men's group at St. Elizabeth of Hungary Catholic Church, provided nearly 25 turkeys for the H.E.L.P. store to give out for Thanksgiving. Members Frank Toledo (left) and Steve Gomez give a turkey to Maricela Alonso with a freezer-full still to be distributed. The H.E.L.P. store also helps at Christmas and is accepting donations for its Share Your Christmas program. To contribute, send a check to the program at P.O. Box 1038, Raeford, NC 28376 or drop by 110 Central Avenue.

Subscribers! Read the entire News-Journal online as early as 10:30 a.m. Wednesday!
New! Try the News-Journal for just 99¢ for the first month-Begin reading immediately!

November 25 — December 2, 2015


First Hometown Christmas comes to Raeford next week

Williamson named state's top superintendent

Oops, Crumpler isn't longest serving official

Hoke couple wins big

Obituaries

(updated daily)

Place Classified Ads here to reach 30,000 readers.


Legal ads appearing in the printed version of The News-Journal can be
viewed here as a PDF file.

Subscribe to the print edition, and get online access to the entire News-Journal.

Numerous other stories


School news


District and Superior Court records


Real Estate Transfer


Weddings, Engagements


Births


Other Stuff


Letters to Editor


Local columns


Police blotter


Obituaries


Community Calendar


Legal announcements


Sports


Shopping opportunities

Subscribe

(this page updated *almost* every Wednesday)