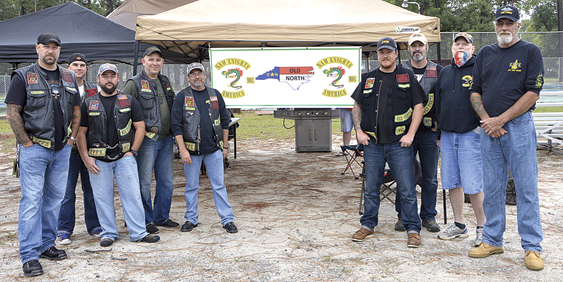 The Old North Chapter of the Nam Knights of America Motorcycle Club hosted its quarterly Law Enforcement/Emergency Workers Appreciation Lunch Saturday at McLauchlin Park. The event offered free hamburgers and hot dogs for Hoke County law enforcement and emergency workers to show the club's support and appreciation for their service to the community.


Subscribers! Read the entire News-Journal online as early as 10:30 a.m. Wednesday!
New! Try the News-Journal for just 99¢ for the first month-Begin reading immediately!

September 30 - October 7, 2015


Early voting starts Oct. 22

No sales tax referendum

Drug, alcohol addiction growing problem

Rockfish man injured in tractor accident

Obituaries

(updated daily)

Place Classified Ads here to reach 30,000 readers.


Legal ads appearing in the printed version of The News-Journal can be
viewed here as a PDF file.

Subscribe to the print edition, and get online access to the entire News-Journal.

Numerous other stories


School news


District and Superior Court records


Real Estate Transfer


Weddings, Engagements


Births


Other Stuff


Letters to Editor


Local columns


Police blotter


Obituaries


Community Calendar


Legal announcements


Sports


Shopping opportunities

Subscribe

(this page updated *almost* every Wednesday)