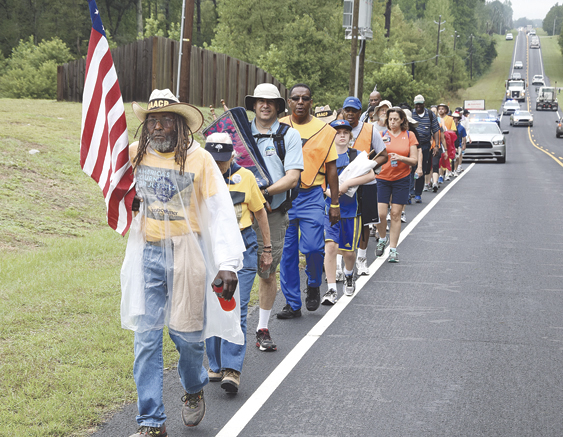 Members of the NAACP walking from Selma, Alabama to Washington, D.C. passed through Hoke County Monday with the North Carolina Highway Patrol escorting them down Highway 211 and later onto Highway 401. The 860-mile march is meant to draw attention to voting rights. (Ken MacDonald photo)

Subscribers! Read the entire News-Journal online as early as 10:30 a.m. Wednesday!
New! Try the News-Journal for just 99¢ for the first month-Begin reading immediately!



Woman saves her children from fire

Ethanol plant refuses to pay taxes

Hoke High has new band director

Schools get scores

Obituaries

(updated daily)

Place Classified Ads here to reach 30,000 readers.


Legal ads appearing in the printed version of The News-Journal can be
viewed here as a PDF file.

Subscribe to the print edition, and get online access to the entire News-Journal.

Numerous other stories


School news


District and Superior Court records


Real Estate Transfer


Weddings, Engagements


Births


Other Stuff


Letters to Editor


Local columns


Police blotter


Obituaries


Community Calendar


Legal announcements


Sports


Shopping opportunities

Subscribe

(this page updated *almost* every Wednesday)