Not Necessarily The News In Hoke

By Ken MacDonald

Ken MacDonald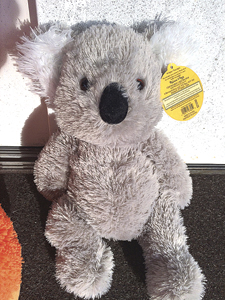 We had stopped for throw-up merely 45 minutes after leaving Raeford. After some fresh air, cleanup, and moving the victim from the squalid rear of the church van where the air is trapped, stagnant and warm, and where motion is intensified and amplified until your eyes swim like a schooner in the north sea, we began to depart the parking lot of the unfortunate convenience store. Immediately from the rear: "Nicky fell out of the van!"
For a split second it didn't make sense. The kids have seatbelts, the doors were closed. Wait. WHO fell out of the van?
"Nicky—Diana's koala bear!"
A stuffed animal.
Ah yes, a fitting end to the first hour of the annual youth ski trip.
Actually, we were supposed to go last weekend, but we couldn't get to the snow because of snow. So a week later, in typical North Carolina fashion, we were going in 70-degree weather.
As we lumbered on down the road, I wondered what more of those uniquely youth group adventures lay ahead.
The next day from a girls' room: "The toilet is overflowing and it's getting on the carpet!"
There we go.
When I arrived, to their credit, the girls had already called the front desk and a search was on for a plunger. But this trip's second offense to carpet was already smelling, and it was clear the three girls would have to be moved to another room.
Trouble was the closest available space was not adjacent to our five other rooms. Still, no problem—they were mature enough to handle one night of slight separation. The new room, after all, was on the same floor. So they packed up and moved.
A little while later I walked down to check on them.
I could hear them before I got to their room, and the excitement seemed a bit extreme even for them.
Yikes! What. Is. This!
There was a door in the middle of their room, and it opened to the adjacent room.
Two doors actually, so that if you opened your door and the occupants of the next room opened theirs, each could access the other's room. A great floor plan if you're a parent and you're vacationing with your kids, but less than ideal if there are, say, boys from another youth group on the other side of that door.
Turns out there were.
The boys had begun tapping on the door, the girls had responded, and there had been escalation to door slamming by the time I arrived.
Oh. Heck. No. The solution was easy. I traded rooms with the girls.
And for a little fun, one of our adult females, Katharine, positioned herself at the door with her most imposing look, and when the boys opened it again, there she was with her hands on her hips and a glare in her eyes.
Slam!
"I thought so!" she exclaimed.
On to the next adventure.