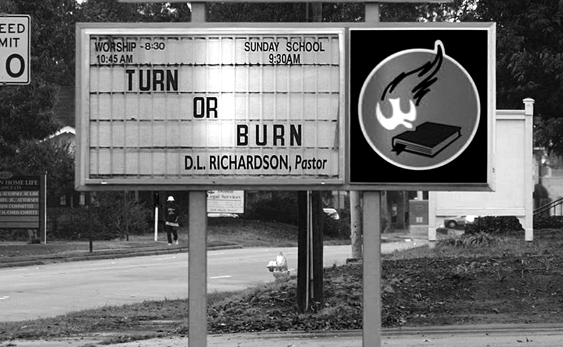 Why do they hate us on Facebook?
By Ken MacDonald
Here's a test for us church-goers.
They will know we are Christians by our:
A. Contempt for gays
B. Nice buildings
C. Moral superiority
D. Sappy music
E. Fish bumper stickers
The correct answer is, of course, none of the above. The answer is love. It's in the Bible and it is even in a song. Unfortunately, the correct answer is also all of the above.
How can it be that followers of Jesus—the guy who befriended prostitutes, showed compassion to an adulterer, said love your enemies and pray for them, said if someone hits you "stand there and take it," who said to be merciful, peacemakers, and meek—how can our public reputation be so sullied if we follow that guy?
You have to admit it's a valid question.
Sure, it's been asked for ages in one form or another, but now, with instant media, the dichotomy between what we should be doing and what we are doing is ever-presently on parade.
On Facebook and YouTube there's the child singing "no homos in heaven," the preacher saying we should round up gays and lesbians and fence them in until they die, and even right here in our area a pastor arrogantly joking that gay children should be smacked. There are the Westboro Baptist Church members protesting the funerals of soldiers. There are millionaire preachers, and politicians pushing us toward theocracy.
Signs in front of thousands of churches tell everyone what they're doing wrong and where they're going if they aren't careful. On their web pages, manifestos proudly proclaim why they're right about this issue or that, this version of the Bible or that. Inside, the tone is all-too-often smugness and arrogance. The buildings are nice, and tax-free.
Why would someone not resent it? Why would the world not resent it, especially in a land where five percent of the earth's population controls 25 percent of its wealth?
In the Bible, so often quoted in our proud self-righteousness, we're told to "live humbly," and that real wisdom is not boasting but "characterized by getting along with others." It is "gentle and reasonable, overflowing with mercy and blessings," and treats each other with "dignity and honor."
Jesus said to feed the poor, give the cold clothes, visit the sick, take care of the homeless.
And this is in the Bible too. The prophet Isaiah said, "Quit your worship charades… Meetings for this, meetings for that. I hate them! I'm sick of your religion, religion, religion while you go right on sinning." He says, "Say no to wrong. Learn to do good. Work for justice. Help the down-and-out. Stand up for the homeless. Go to bat for the defenseless."
Churches wonder why their young people are leaving them in droves. Why the once-pervasive religion of the U.S. is now ridiculed and dismissed. The church's response has been to redouble its defensiveness and yell back.
Maybe if churches gave up the "religion" and really followed their leader and did what he said, people would want to be a part of it. If they took down their turn-or-burn signs and responded to outsiders gently with love. If they lived humbly and worked to make this world better, took care of the homeless and poor, worked for justice and gave up their power and position. Maybe then Facebook wouldn't be a cringer, young adults would return to the church, and Jesus would be honored.